för att fylla år!!! Men jag är ständigt 25 har jag bestämt mig för så det är det jag säger när någon frågar :)
Jessica uppvaktade med kaffe och presenter på sängen halv sex i morse! Fick jättefina örhängen och halsband av barnen! Sen öppnade jag mina paket som jag hade fått i swappen jag är med i på AOS. Bild på vad jag fick för pyssligt kan ni se längre ner i inlägget.
När jag kom till jobb fick jag presenter av Jennie. Jättefina grejor som hon hade hittat i en butik i S-holm. Bild kommer senare.
Mitt under lunchen när vi satt och åt smörgåstårta (som jag stod och slavade med igår), kom det ett blomsterbud med blommor från Janne ♥♥♥
När jag kom hem låg det kort i lådan från diverse folk, fick 4 trisslotter av syrran som det var 100 kr vinst på, så det blir nya lotter där!!! Innan dess har jag fått en massa pengar av föräldrar och Janne, men de har jag inte bestämt vad jag ska göra med ännu!
Hmmm jag hoppas att jag inte glömt något nu, men jag måste ha varit snäll med tanke på hur mycket jag fått :)
Time again for my birthday, 25 again ;) Got coffee and presents from the kids 5.30 this morning in bed, nice.... Got two pairs of earrings and a necklace. More gifts this day, were from a swap that I'm in on a Swedish message board. See pic a bit down in this post. I got a couple of presents from Jennie at work, I got flowers delivered to me at work from Janne ♥♥♥
I've gotten lots of cards and some lotterytickets, I've gotten a lot of money from my parents and Janne, but haven't decided what to do with them yet! But I must have been good this year considering all that I've got today :)
Mina presenter från, Mammaria, Cissi, Eva, Tigra och *bling*
My presents from the swap.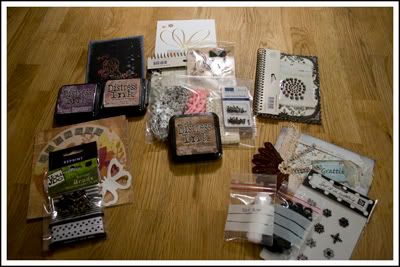 Ett litet julkort som jag gjort för
Inkido
! Det är papper, cardstock och stämpel därifrån!
A little x-mas card that I made for
Inkido
!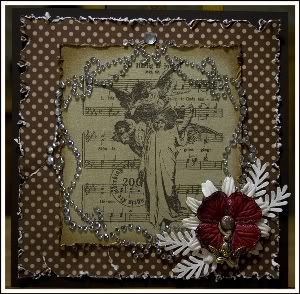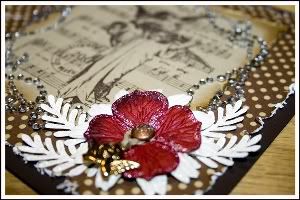 //Ewonne